The Tenors: Santa's Wish Tour    |   8:00pm November 28, 2021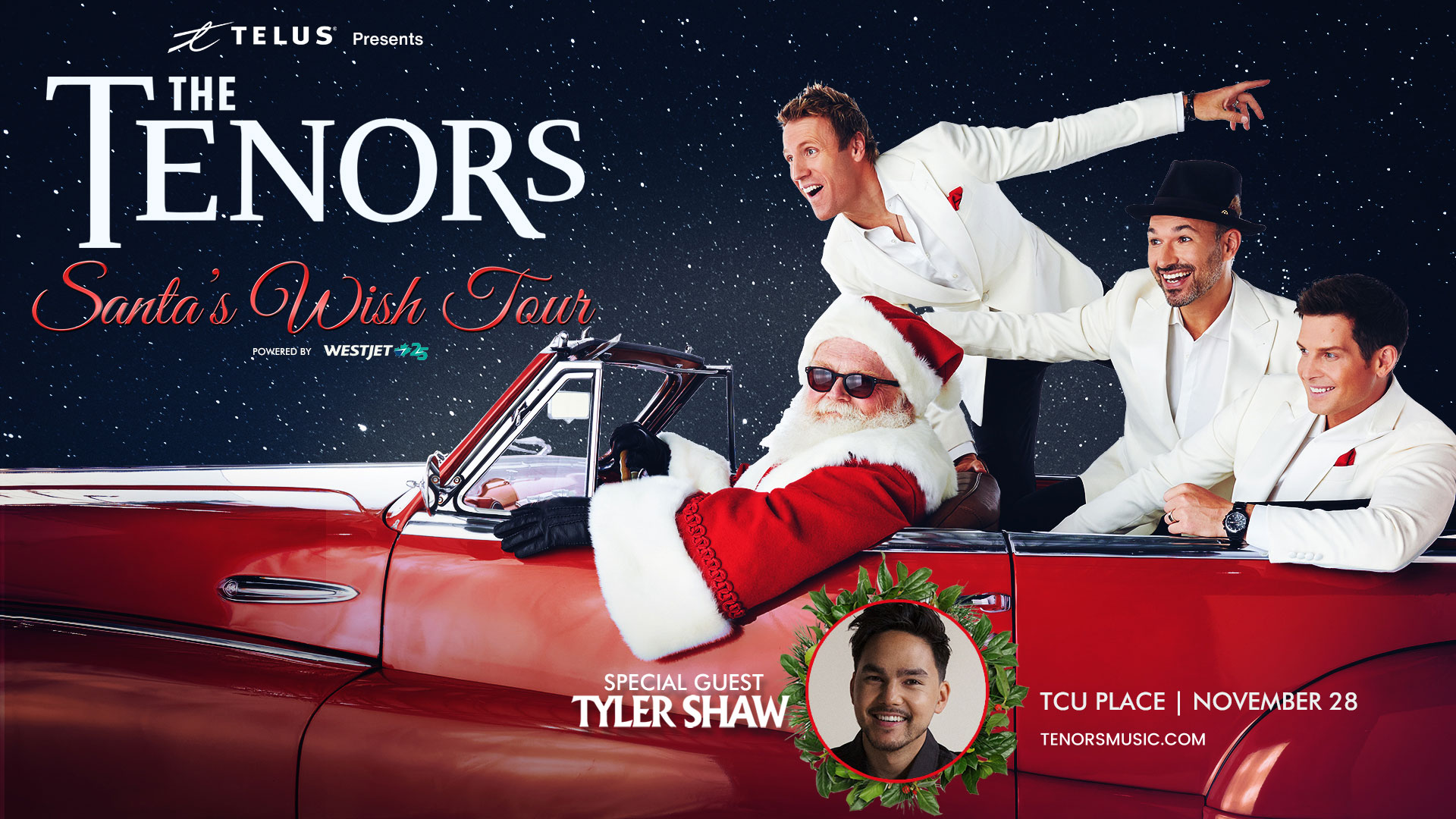 JUNO Award-winning and multi-platinum selling vocal group The Tenors are returning to the stage this holiday season with their Santa's Wish tour presented by LiveNation and sponsored by WestJet. The Tenors will perform holiday hits in the spirit of the season at TCU Place on November 28, 2021.
Joining them on the tour is multi-platinum selling, JUNO Award nominated recording artist Tyler Shaw. Tyler Shaw and The Tenors are also releasing a holiday single together, "O Holy Night," which will be released via Sony Music Entertainment Canada on October 22, 2021. The single will be part of Tyler's upcoming holiday album, A Tyler Shaw Christmas, out November 5, 2021.
"We're so grateful and excited to safely reconnect with all of our fans on our Santa's Wish Tour," said The Tenors. "We're also thrilled to collaborate with Tyler Shaw on a new holiday song and to have him join us on the road. We can't wait to hit the stage and reconnect with our fans across Canada while we celebrate the holiday season."
Clifton, Fraser, and Victor of The Tenors have been thrilling audiences around the world with their powerful songs, outstanding harmonies, and undeniable charm. Reimagining iconic hits and blending classical music, contemporary pop, classic rock, and folk, the award-winning and multi-Platinum selling group have achieved international success, performing thousands of live shows and hundreds of national and international TV appearances on five continents.
The Tenors have graced the stages of many prominent theatres, symphony halls, festivals, and arenas worldwide. They have performed for the last four Presidents of the United States, at the White House Christmas Tree Lighting, for world leaders at the G20 Summit, and for Her Majesty the Queen's Diamond Jubilee at Windsor Castle. The group have also had the honour of sharing the stage with some of the biggest names in music including Celine Dion, Sir Paul McCartney, Stevie Wonder, Sarah McLachlan, Sting, Justin Bieber, Andrea Bocelli, Christina Aguilera, Smokey Robinson, and David Foster.
The Tenors Santa's Wish tour tickets and VIP packages are on sale this Friday October 8th at 10am – local time. Fans can get access to pre-sale tickets through The Tenors Community on Patreon starting October 5th.
The Tenors have partnered with PLUS1 so that $1 per ticket (where available) supports MusiCounts and their work to make music education inclusive, sustainable, and accessible for youth across Canada.
Santa's Wish Tour VIP Package
Includes:
One Premium Reserved Ticket
Access To The Tenors' VIP Meet & Greet*
One Photo Opportunity With The Tenors*
One Signed 8x10 Photo of The Tenors
One Tenors Branded Keychain
One Commemorative VIP Laminate
Tyler Shaw VIP Experience
Includes:
One premium reserved ticket
Access to Tyler's VIP Meet & Greet
One Photo Opportunity With Tyler
One Signed 8x10 Photo of Tyler
One Commemorative VIP Laminate
*Meet & greet + photo opportunity may be socially distanced, masked or converted to a fully virtual model depending on COVID-19 guidelines at the time of the show