Arctic: A Man Under The Ice   |   Starting April 21, 2022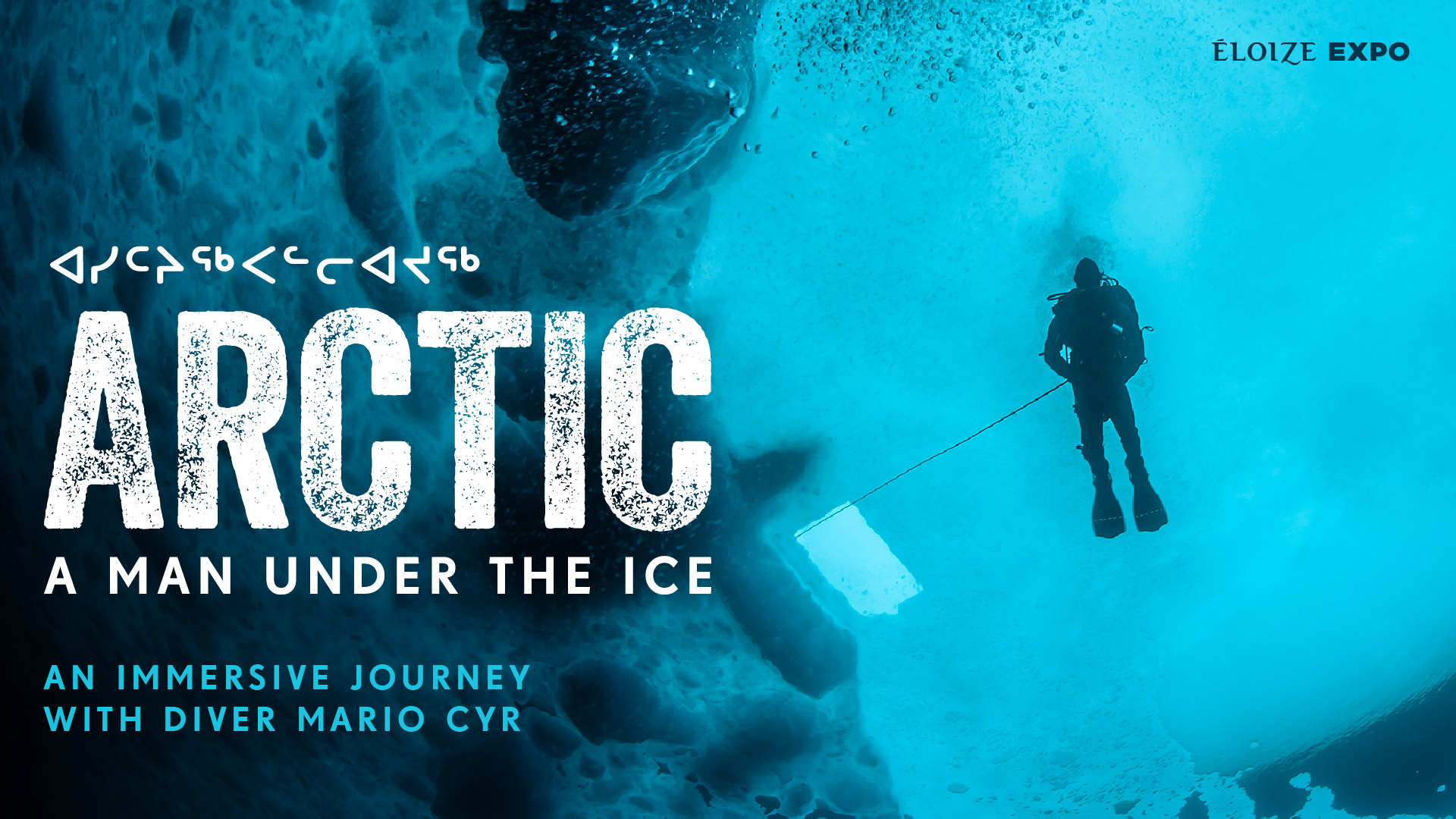 Presented by Éloize Expo in association with TCU Place, SaskTel Centre and Downtown Saskatoon
The immersive exhibition ARCTIC: A Man Under The Ice is a fun 75 minute experience for the whole family.
Free for children ages 4 and under. Family packages and special school group rates are also available.
Walk into the life-sized base camp and join the expedition as photographer and filmmaker Mario Cyr meets his invaluable Inuit guides. Allow yourself to be transported through his lens by over three hundred images taken during his twelve thousand dives revealing a spectacular mosaic of Northern lights, polar bears, walruses and diverse aquatic life. Discover the Floe Edge; the mysterious intersection of ice and sea that teems with a myriad of life. The Iceberg Garden is a complete immersion and transcendent dance of larger-than-life images, accompanied by whale song and the music of composer Jean-Michel Blais. The Cave features four fascinating immersive experiences that transport the audience to new worlds rarely seen, providing glimpses into the unknown. The exhibition culminates with an awe-inspiring voyage: a virtual dive with Mario Cyr within in a 360-degree projection space, demonstrating the vast richness and wonder of what lies beneath the ocean's icy surface.
The experience is officially supported and endorsed by The Ocean Decade, a global UNESCO program that seeks to stimulate ocean science and knowledge generation to reverse the decline of the state of the ocean system and catalyze new opportunities for sustainable development of this massive marine ecosystem. This immersive exhibition was designed and produced by Lilli Marcotte and Benoit Landry based on an original idea by Jeannot Painchaud in conjunction with Éloize Expo.
Important Notes
Event space is by the Southeast entrance to the main floor of Midtown Plaza, located next to Shoppers Drug Mart.
Tickets can be picked up at the Arctic Box Office for day of tickets and TCU Place for other tickets