Boney M 2018    |   December 10 & December 15, 2018 at 7:30 PM, December 15 at 3:00 PM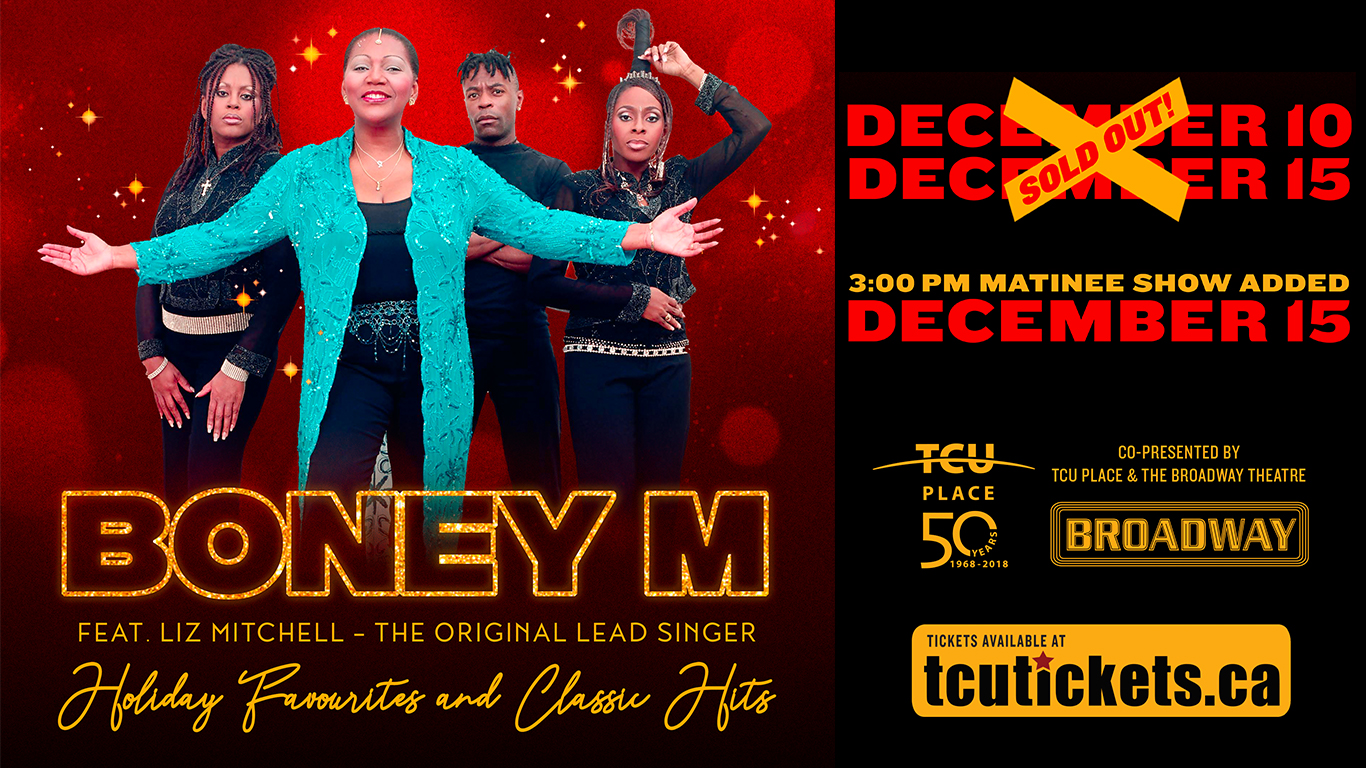 TCU Place and The Broadway Theatre are honoured to bring BONEY M. Featuring LIZ MITCHELL to Saskatoon
this holiday season for THREE SHOWS!

Boney M. was not only THE disco cult band of the 70's and 80's but remains a living legend of the entire disco era.
Originally founded in Germany by writer and producer Frank Farian, Boney M. was one of the disco-oriented pop acts
which dominated the charts throughout the late seventies and early eighties with a String of hits well remembered to
this day. Farian molded the four-piece band in the dance-pop fashion, featuring the stunning vocals of Liz Mitchell,
which proved irresistible to radio, dance floor and partygoers. The original and only lead singer of Boney M. was born
in Jamaica and moved to London at the age of eleven.

She always wanted to be a professional singer and with her mother's belief and support she finally got lucky; when
working as a secretary an agent called and offered her a leading role in the musical Hair. Liz accepted and moved to
Berlin where she stayed for three years.  After this she began working towards her original goal to be involved in the
music business. Whilst in London doing a recording session Liz was asked to join a new band, Boney M. This role launched
her international singing career and the rest is history.

The biography of Boney M's hits is extensive. The group had eight Number One hits in the European charts with the
following singles: Daddy cool, Sunny, Ma Baker, Belfast, Rivers of Babylon, Brown Girl in the Ring, Rasputin, Mary's Boy
Child.  In addition to the successes of Boney M's singles was the success of three Number One albums in the European
market: Take the Heat off Me, Nightflight to Venus, Love for Sale.

Of course, Boney M is also synonymous around the globe with the Christmas season thanks to their incredibly enduring
Christmas Album (1981). If you don't start humming along when "Mary's Boy Child", "Feliz Navidad" or "Little Drummer Boy"
start up…..then you are missing out!

We are now in the 21st Century and Boney M's international success during the past thirty-five years has proven that
their hits definitely belong to the collection of timeless classics. In 2018, Boney M. featuring Liz Mitchell is still a phenomenal
live act drawing huge crowds across Europe and around the world.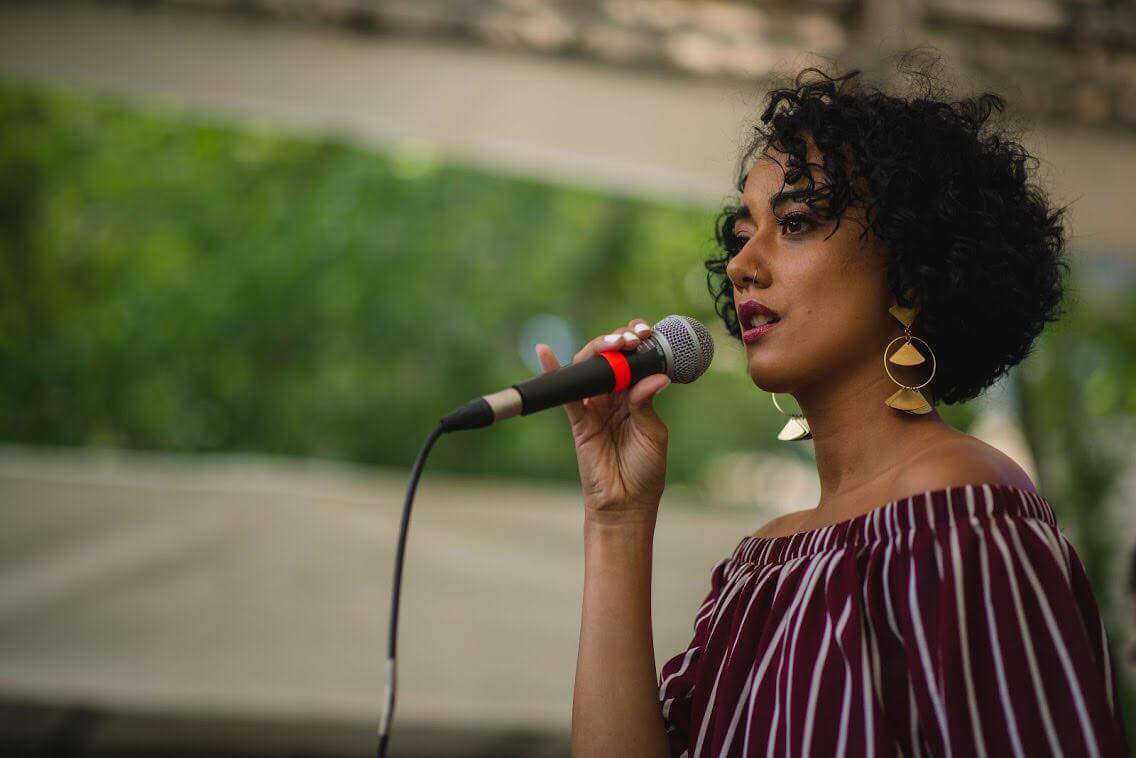 Opening Act:  Denise Valle is a soulful songstress from Saskatoon, SK. With love as her subject and soul her  sound, her music fuses the hypnotic warmth of R&B with the insatiability of pop. Her lyrical  narratives are met by a raw vocal wave; her voice is passionate, enlightened, ethereal.  Denise manipulates grand rhythms into pop ballads for a hypnotic effect that draws a crowd into  an intimate moment of pure elation. As seen with various house shows with jam-packed  basements and overflowing yards, or at Ness Creek Festival and Jazz Fest, she reaches out to  gently touch the heart, clearing away the clutter of the moment in a simple hook. Her indelible  print is left as you lie awake in bed, her words falling effortlessly off your tongue as you fall  asleep. Born in Los Angeles, Denise moved to Rosthern, Saskatchewan where she was raised by the  rhythms of Motown and r&b; her love for music leading her to make the top 100 of Canadian  Idol at age 16. She continued on to win the Duo Competition in Saskatoon in 2013, earning the  top prize of $10K. With the release of her first single in 2016, Denise materialized her soulful  articulations alongside producer and engineer Earl Pereira (3 time Juno Nominee) and Trevor  Chase (Engineer of "This is For My Girls" for Obama Initiative Let Girls Learn).
Her most recent performances in Calgary (Café Koi) and at the Saskatchewan Sasktel Jazz Festival were met with eminent enthusiasm as crowds of young and old imbibed in her sound. Her first single, "Heartbeatz", was featured on Chart Attack and she is currently recording her second single, "Our Love Never Dies" at the CBC Studio 1 in Regina, SK. Her debut album is anticipated early 2019 and she is opening this Dec (2018) for three sold out shows at TCU place for the iconic Boney M.

TCU Place is very proud to partner with Broadway Theatre to bring BONEY M to Saskatoon for the first time.

Don't miss these extremely special Christmas shows!