City and Colour   |  November 27, 2021 at 8:00pm (Doors at 7:00pm)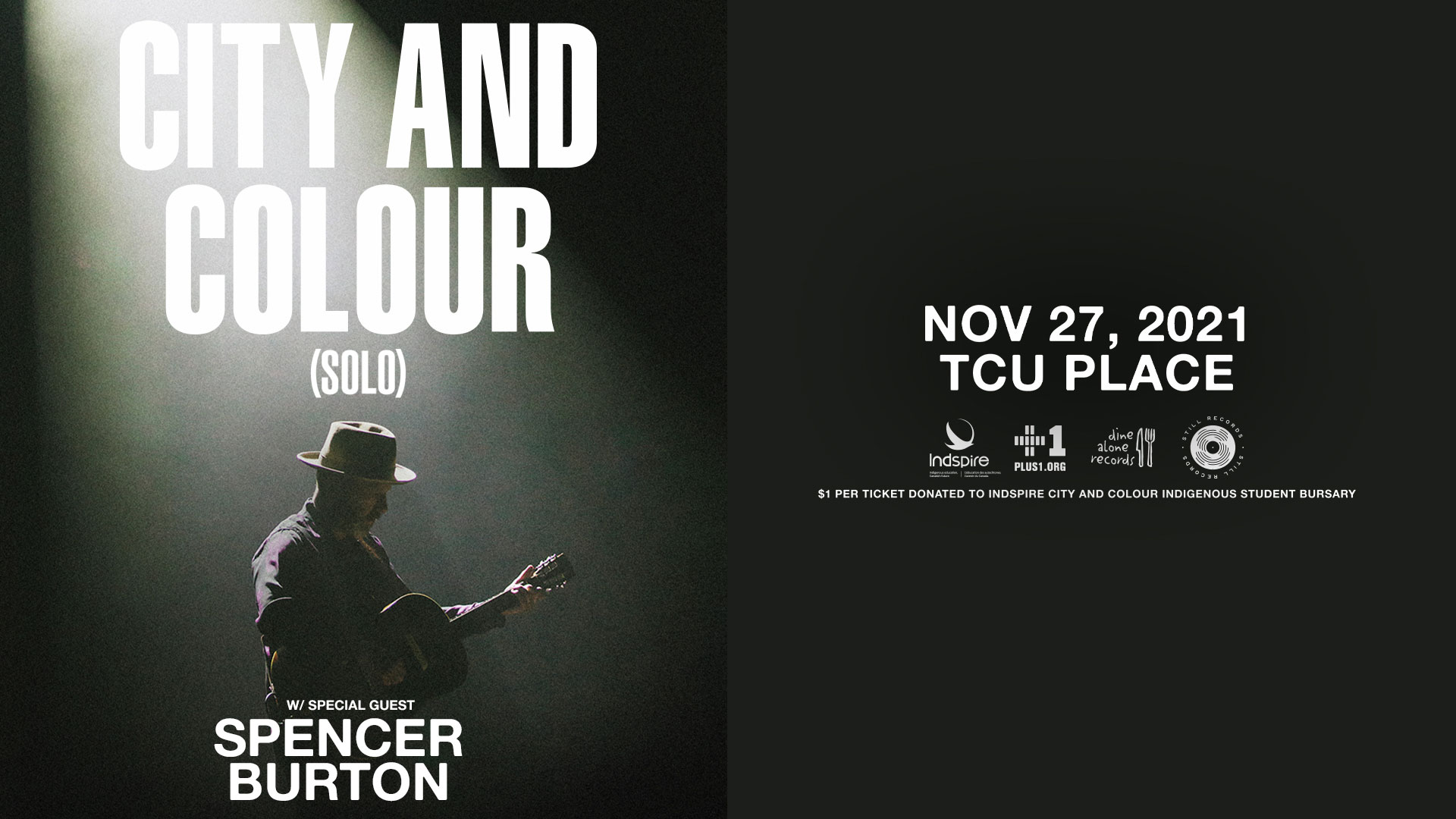 With Special Guest Spencer Burton
City and Colour, acclaimed singer, songwriter and performer Dallas Green, announced tour dates kicking off in Vancouver on November 12, 2021 and culminating with 5 shows at historic Massey Hall in Toronto in December. Green will perform intimate, solo live concerts featuring songs from his vast award-winning catalogue in 12 Canadian cities, on the heels of a recently announced U.S. tour in September and October. This is Green's first solo tour returning to stages across Canada since November 2019 since the pandemic profoundly affected people worldwide and brought live entertainment as we knew it to a halt.
City and Colour has partnered with PLUS1 to collect $1 from every ticket sold, which will be donated to Indspire. To date, Green has donated over $80,000, to Indspire's Building Brighter Futures Scholarship program through the City and Colour Indigenous Student Bursary, and the Alexisonfire Indigenous Music Bursary, which were established in 2019 with the goal of supporting students as they complete their education and achieve academic success.
Over the course of six studio albums, Dallas Green has compiled a canon ripe with songs born of adoration and devotion amassing a legion of fans worldwide and garnering him 3 JUNOs, including two Songwriter of the Year awards, plus 1 Triple Platinum, 2 Double Platinum, 1 Platinum, and 1 Gold certification at home in Canada. Alongside these accomplishments, Green has been awarded Platinum-certification for all four of Alexisonfire's full-length records.
City and Colour's last studio album A Pill For Loneliness - released on Green's Still Records, an imprint of Dine Alone Records - debuted at #1 on the Billboard Canadian Albums Chart, his 4th consecutive chart-topper in Canada. His previous #1 LP If I Should Go Before You made serious waves internationally debuting at #16 on the U.S. Billboard 200 Chart and #5 in Australia where Green's LP Little Hell was certified GOLD. In 2014, Green collaborated with international superstar Alecia Moore (aka P!nk) on a new project titled You+Me. The duo's acclaimed Platinum-certified first record, rose ave., debuted at #4 on the U.S. Top 200 Chart, #1 in Canada, #2 in Australia culminating in memorable performances on The Ellen Show and Jimmy Kimmel Live.
About Indspire
Indspire is a national Indigenous charity that invests in the education of Indigenous people for the long-term benefit of these individuals, their families and communities, and Canada. Indspire's vision is to enrich Canada through Indigenous education and by inspiring achievement. In partnership with Indigenous, private and public sector stakeholders, Indspire educates, connects and invests in Indigenous people so they will achieve their highest potential.
About PLUS1
PLUS1 is an initiative that channels the collective energy of a concert to catalyze social change. By partnering with performing artists, PLUS1 raises and grants millions of dollars to high impact nonprofits addressing our most serious global challenges around Access, Equity, and Dignity. The work begins with a $1 per ticket add-on that makes fundraising simple and seamless. Beyond the dollar, PLUS1 supports artists as educators and advocates, fuelling their passion, reach, impact. To date, PLUS1 has raised and granted over $7 million, and served as the connective tissue between over 100 artists, millions of their fans, and 100s of leading social justice organizations tackling global injustice.
About Special Guest Spencer Burton
Spencer Burton has always been strongly connected to the natural world. An Ontario boy raised across the great expanse of Canada, Spencer carries with him an insatiable wanderlust and deep respect for nature.
After years of living mostly in the city between long touring stints, Spencer was feeling drained and uninspired. The constant hum of the city promoted a lifestyle that was entwined with work and networking, an energy that could easily push oneself into the ground. Coupled with the transient existence of a touring musician, Spencer felt the need to plant roots.
That pull led him to flee the city for a quieter existence in the country. In a small town, life moves a lot slower. The rural life soothed his soul, let him bask in subdued silence and fade out into the mist. Interacting with people became a choice, and the open road became one that he traveled alone. This simpler reality led him even closer to the earth and to the powerful freedom solitude brings.
Coyote, Spencer's fifth studio album, is an ode to that power, but also a representation of the excitement and fear of solitude, and of art. Recorded in the comfort of friends on true analog equipment down in Nashville, the album is full of dualities, necessary stops and questions on the long journey of self-discovery that is life. "Every song I've ever written is a place to keep a memory," says Spencer.
His musical trajectory has been multifaceted, from his punk rock roots as part of Attack in Black to the darker country-inspired sound of his two first solo albums under the name Grey Kingdom. In 2012, Spencer dropped Grey Kingdom in favour of his own name, moving towards a more natural country folk sensibility.
Spencer's move to Niagara coincided with his becoming a father, a shift that has permanently shaped his life and his music. His most recent album, The Mountain Man, is a children's album created with his family in mind. "Making art feels pretty selfish, in a way. Having kids makes you forget about yourself, makes you care about them above anything else. It's this insane sense of perspective--these little sources of the most intense love and happiness, but also worry and fear."
Coyote is self-reflective, a journey of finding oneself again through a soul-healing connection to nature and within the confines of being a parent. "I'm continually challenging myself to put out the best record I've ever made."
City and Colour Statement
As I write this, it has been 545 days since I last stood on stage and sang for a crowd.
545 days since my touring family has had work.
545 days since our livelihood disappeared.
We can't wait to get back out on the road - the place where most of us have spent the majority of our adult lives, a place we all miss dearly.
Everyone is working incredibly hard to bring live music back. That being said, the world we are returning to isn't exactly what it used to be (at least for now). To ensure the safety of EVERYONE involved, we are asking that all venues put measures in place to require proof of FULL COVID-19 vaccination or proof of a negative COVID-19 test result to gain entry to all 2021 City and Colour concerts. This requirement applies to all venue staff, tour personnel and ticket holders.
For specific requirements and more info about your show, please visit the venue website or point of purchase.
It means the world to me to finally get back out on the road. I'm returning with an even deeper sense of gratitude for everyone that has supported me over the years. This decision was made with the health and safety of our fans, the bands, our crews and the venue staff in mind.
See ya in the Pit
Love Dal.
TCU Place Statement
We are excited to be returning to live music at TCU Place this fall. Our goal is to keep people as safe as possible while gathering to enjoy incredible music. The artist, City and Colour, is requiring that all guests at their shows, including the show on Nov 27 at TCU Place, show proof of full vaccination or a current negative test in order to attend the show. TCU Place will be honouring this requirement.
You must have had your second Covid vaccination at least 14 days before the show or have a negative Covid test result from within 48 hours of the show to be allowed entry. We will verify your vaccination status or negative test result when you present your ticket for entry. For proof of vaccination, we will accept a printed copy or screen capture of your immunization record or the card you received when you got your vaccine. Your name must be clearly visible when presenting either of these options, and you must present valid ID that matches. What will be accepted as proof of a negative test result is still be determined and will be announced at a later date.
You can access your Saskatchewan vaccination records here: MySaskHealthRecord
You can learn more about getting a COVID-19 test in Saskatchewan here: Covid-19 Testing
If you are unable or unwilling to follow this request, refunds may be requested up to 48 hours prior to the show, by emailing boxoffice@tcuplace.com or by calling 306-975-7799. Requests for refunds will not be honoured within 48 hours prior to show time.
Statement from the Event Organizer
The Event Organizer is requiring all attendees of this event to be fully vaccinated against COVID-19 OR have received a negative COVID-19 diagnostic test within 48-hours prior to entering the venue. In attending the event, you certify and attest that you and all individuals in your party attending the event will abide by the following regulations: All fans must be fully vaccinated against COVID-19 (at least two weeks after final dose) and provide proof of vaccination. Unvaccinated fans 12 years old and older with a valid medical restriction and medical note preventing vaccination will be required to take a COVID-19 diagnostic test within 48-hours before the event, and provide proof of negative result to security prior to entering the venue. These regulations will apply to all members of your party before they are allowed to entry to the event and to any users of the tickets purchased by you. Entry requirements subject to change.