Darcy Oake: Illusionist   |   7:30 PM Thursday October 27, 2022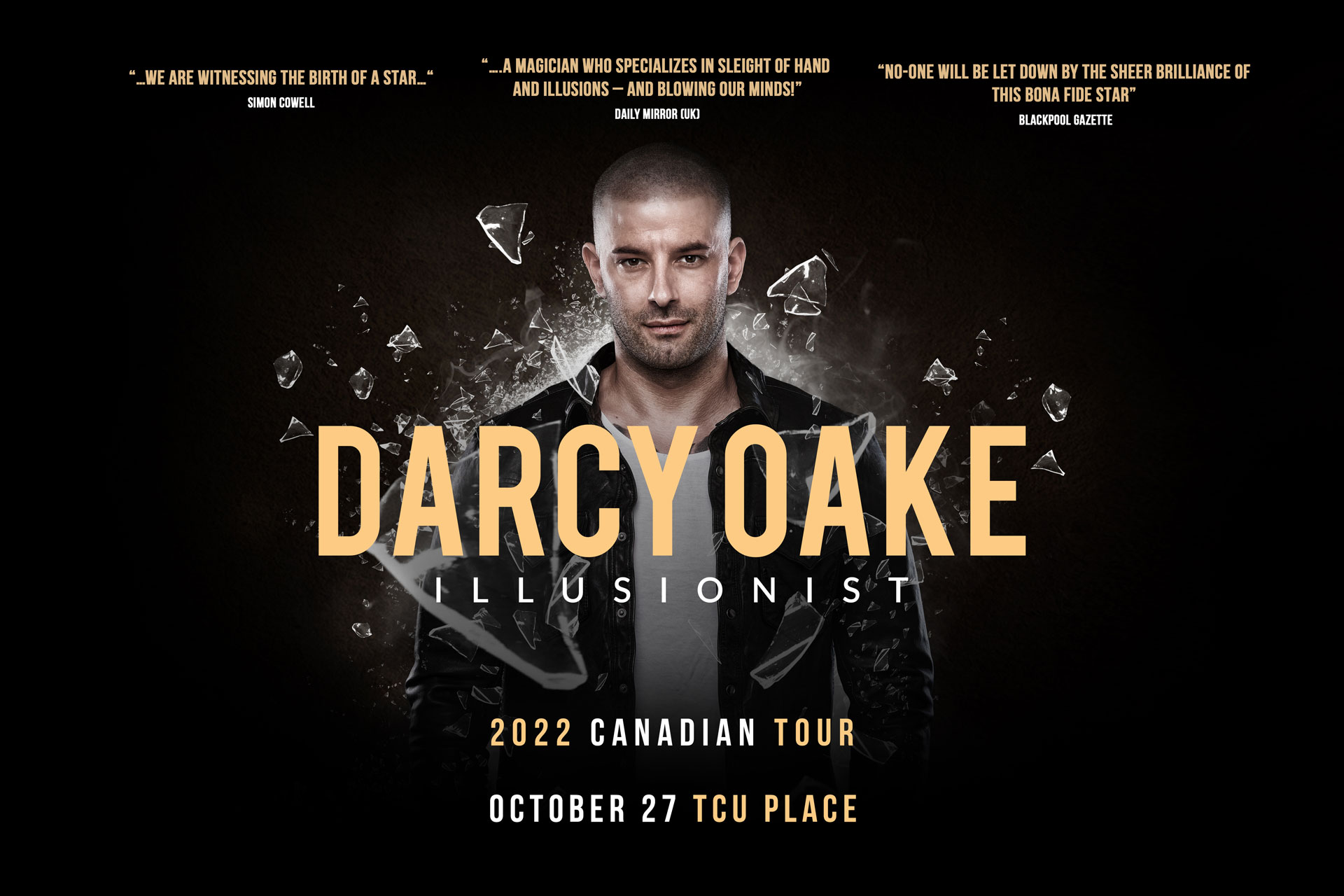 Over 200 million viewers tuned in to Britain's Got Talent to witness the birth of a phenomenon: the unveiling of an electrifying new illusionist, Darcy Oake. From sleight of hand to death-defying escapades, this master magician grabbed the world's attention, ushering in an exciting new era of an age-old art form.
Darcy is a performance artist whose modern interpretation gratifies the hunger of audiences seeking spectacle and nail-biting feats of illusion. Inspired by classic sleight of hand techniques, Darcy transports the crowd to another dimension with exhilarating visuals and logic-defying exploits.
After being baffled by an accidental card trick his father - award-winning Canadian sportscaster Scott Oake – showed him at eight years old, Darcy delved into the craft. He soon became an international magic champion, at age sixteen beating out seasoned professionals at various events and winning the coveted People's Choice Gold Medal in Seattle, Washington. Even before he was legally old enough to enter nightclubs, Darcy headlined at the world famous Magic Castle in Hollywood, California.
Today, Darcy proudly carries on the tradition of such classic illusionists as his fellow Canadian Doug Henning, while adding his trademark grandeur and charm.
In 2016 he made a guest appearance on America's Got Talent proving once again that the impossible is possible and was further honoured to be a part of Queen Elizabeth's 90th birthday celebration where he performed before the Royal Family at a private dinner. In 2018, Darcy headlined 10 shows at the world famous Calgary Stampede in his home country of Canada, in front of audiences over 20,000 per night. That same year Darcy headlined the Broadway show The Illusionists, in Times Square, New York City - breaking box office records.
Taking the rich heritage of the magic culture, Darcy Oake puts a fresh, young and exciting twist on the profession to the delight of audiences worldwide. Darcy Oake has emerged in the world of illusion as a new generation of contemporary mysticism. He's performed throughout Europe, from Paris to London, and across North America, from the heart of Times Square in New York City to the Las Vegas strip.