Dueling Pianos    |   June 8, 2019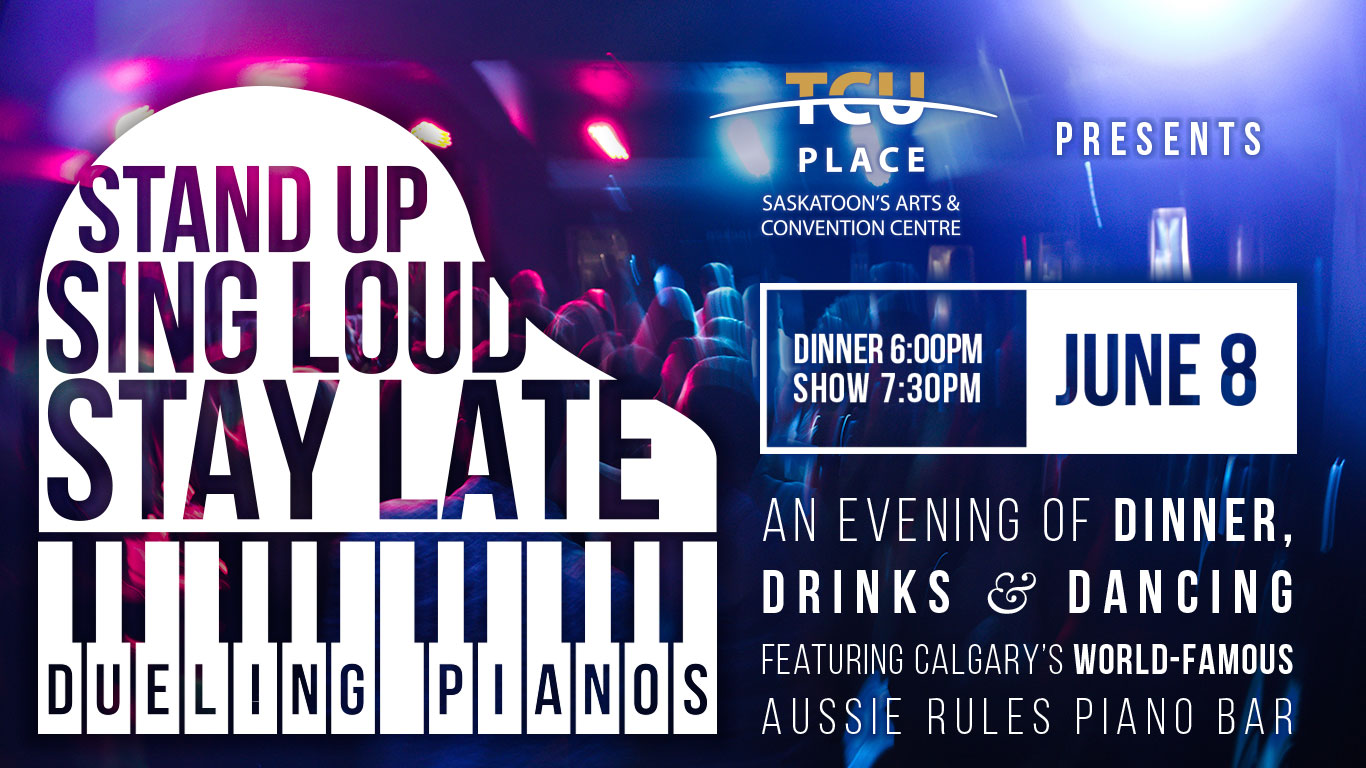 Stand Up. Sing Loud. Stay Late.
TCU Place presents Dueling Pianos – an evening of dinner, drinks and dancing!
If you've ever been to Calgary and not checked out Aussie Rules Piano Bar, you are definitely missing out. But don't fret, we are bringing the world-famous show to you, Saskatoon! Aussie Rules has changed the perception of 'piano bars' forever by combining comedic schtick with great party songs that everyone knows and loves. You'll hear songs you remember from the 60's to the present, from country to rock and even some of today's hip hop and R&B hits. Request songs you love from the sixties to the present, and let the players give you the complete piano bar experience, where you'll not only be entertained, but you can also become part of the show!
 
Saturday, June 8, 2019 at TCU Place
Dinner – 6:00PM
Show – 7:30PM
Doors for show only – 7:00PM
Tickets:
Dinner & Show - $55 plus tax - Available for purchase until 5:00pm, Tuesday June 4.
Show Only - $25 plus tax
Front Row Table of 8 (dinner & show) - $480 plus tax (Best seats in the house - only 9 tables available!) SOLD OUT!
Reserved Table of 8 (dinner & show) - $440 plus tax - Available for purchase until 5:00pm, Tuesday June 4.
Individual tickets will be rush seating. Gather up a group of 8 and reserve a table today!
Dinner Buffet Menu:
Fresh Baked Breads and Buns
Mixed Greens with Beets, Grapefruit & Pumpkin Seeds
Shredded Vegetable Waldorf Salad
Braised Beef
Herb Roasted Chicken
Roasted Potatoes
Montego Vegetable Blend
Chocolate Cupcakes with Vanilla Buttercream
Join us as we turn the beautiful Grand Salon into party central! Perfect for celebrating a birthday, the bride-to-be, or just getting your friends out for an unforgettable Saturday night on the town!
Questions? Contact Crystal at ctew@tcuplace.com or 306-975-3858