Home Free - Dive Bar Saints Canada Tour 2022   |  April 27, 2022 at 8:00 PM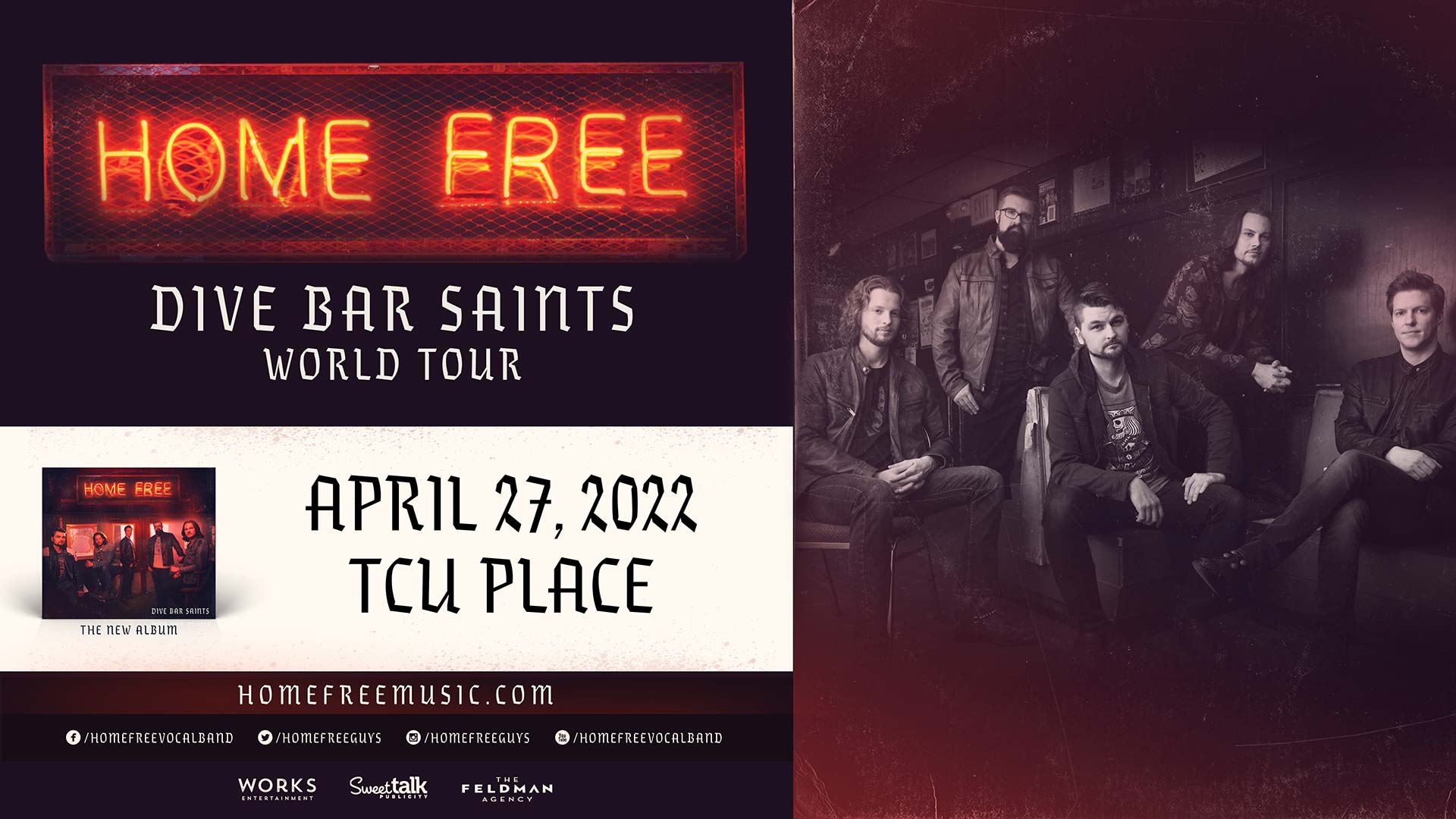 DIVE BAR SAINTS is the title track in Home Free's latest album release. The band's rich, Southern harmonies from their four vocalists Tim Foust, Rob Lundquist, Austin Brown, Adam Chance, and beatboxer Adam Rupp are coming to town next year.
With praise rolling in wide ranges from the likes of Rolling Stone, TODAY Show, Fox & Friends, Country Living, Perez Hilton, and AXS.com, the extraordinary showmen electrify crowds with a one-of-a-kind live show, mixing Nashville standards, soaring originals, and quick witted-humor that brings audiences to their feet with energy and laughter.
Their fifth studio album, DIVE BAR SAINTS, will be released on September 6 under Home Free Records. Home Free's extensive catalog spotlights five Top 5 albums, including TIMELESS, FULL OF (EVEN MORE) CHEER, FULL OF CHEER, COUNTRY EVOLUTION, and their breakout debut CRAZY LIFE (2014), which hit #1 on iTunes Country chart and #4 overall following their victory on NBC's The Sing-Off. To date, they've sold more than 400,000 albums worldwide, including 100-million career audio streams, and 306-million views on YouTube.
Join us for HOME FREE's DIVE BAR SAINTS: WORLD TOUR for a perfect evening of mixed of upbeat Nashville-dipped pop hits, country and western standards, incredible harmony and quick witted humor. Music and details on VIP packages available at http://HomeFreeMusic.com.
Home Free Dive Bar Saints World Tour Experiences VIP
Come join Home Free in the place to heal and the place to (hopefully not) hurt, the church of The Dive Bar Saints. Home Free's hosting VIP experiences before the show, giving a chance for their congregation to get together and celebrate good music. Fans will be treated to exclusive performances, story telling, Q&A with the band, photo and autograph sessions and everyone will walk away a copy of their new album, Dive Bar Saints. VIP Experiences are available only in two forms: "The Ultimate VIP Experience" and the "Q&A Experience." Descriptions are below. Supplies are limited and only while they last.
Dive Bar Saints Ultimate VIP Experience
Treat yourself to an evening of up-close on-stage hang with all 5 members of Home Free. Let this be like the song says "your whiskey therapy session." They promise to listen as long as you're tipping. :)
Ultimate VIP Experiences will include:
One Event Ticket in First Row
One CD and digital download of of Home Free's new album, Dive Bar Saints
One Commemorative VIP lanyard and laminate, one commemorative poster, and one (1) tote bag
Individual photo opportunity with all five members of Home Free
Autograph session with Home Free (no more than two items due to timing restrictions)
Private Performance of song with Home Free
Group Q&A with Home Free
Crowd-free merch shopping
Dive Bar Saints Q&A Visit with Home Free
Circle up for some storytelling, some songs, and a private Q&A with the men in Home Free.
Q&A Visit experiences will include:
One (1) Event Ticket in First 5 Rows
One (1) CD copy of Home Free's new album, Dive Bar Saints, and digital download of album
One (1) Commemorative show VIP lanyard and laminate and one (1) show commemorative poster
Group question and answer with Home Free
Private performance of (1) song with Home Free
Crowd-free merchandise shopping
Q&A Visit Experiences include admission to the full performance of the show.
VIP PACKAGE LEGAL LANGUAGE
Please note: We reserve the right to change the in-person elements of this VIP package to virtual due to the ongoing COVID-19 pandemic. Any and all package elements may be made virtual at any time to preserve the safety and health of attendees as well as the artist. If you have any questions regarding your VIP package elements, or have not received your VIP instructions three days (3) of the concert date, please email
info@237global.com