Master Your Day Speaker Series Luncheon    |   Wednesday May 3, 2023 - 11:00am to 1:30pm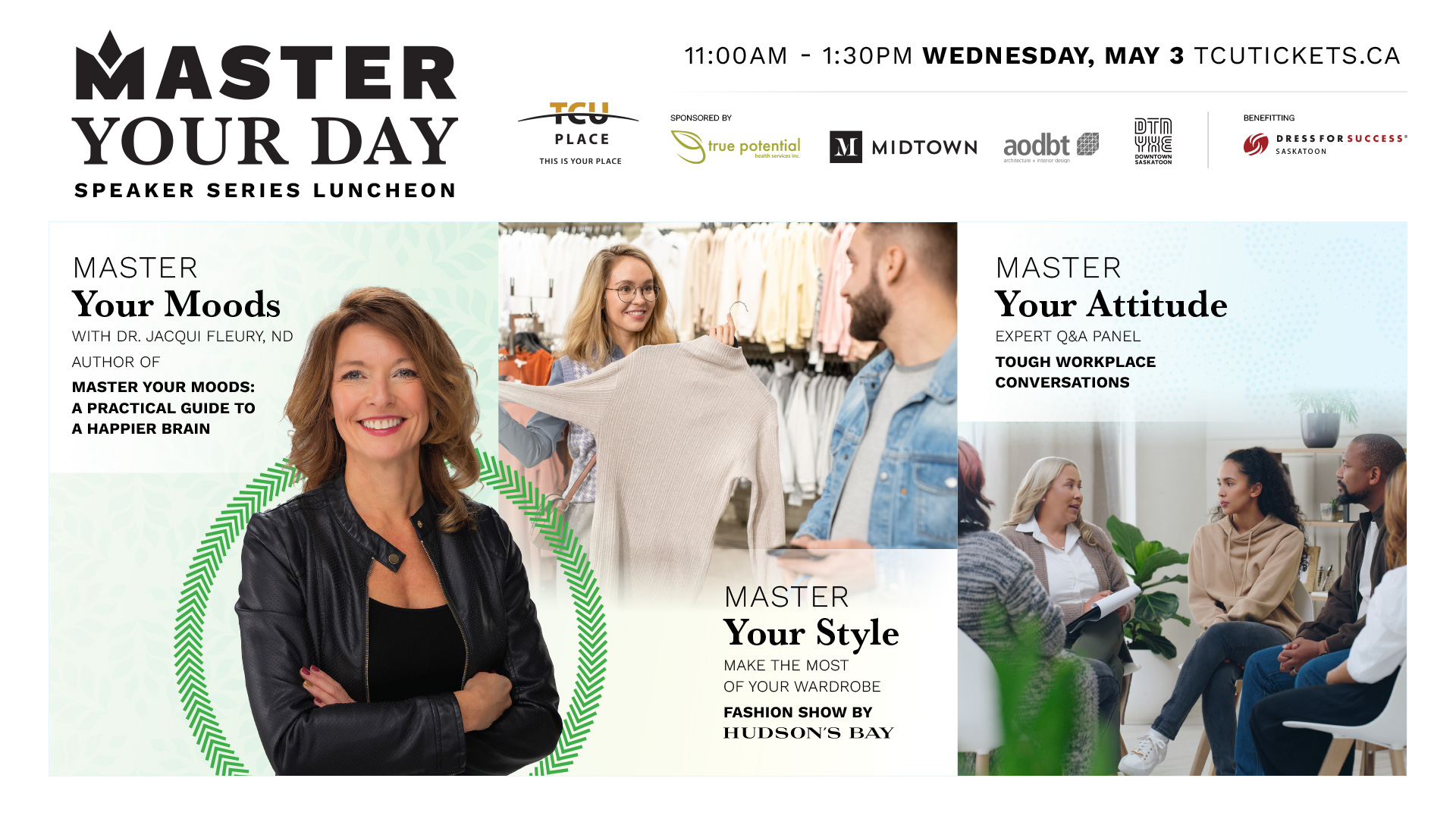 Master Your Day Speaker Series Luncheon
TCU Place is committed to creating events that serve our community in a meaningful way. To that end, we have curated a motivational event encompassing wellness of mind & body. This grassroots luncheon seminar series promises to be inspiring, informative, and lively.
Showcasing the best in our business community, TCU Place is offering community programming that is accessible and inclusive of the many facets that challenge us in getting up and getting out. No matter what your daily routine is, mastering how to get your day off to the best start is good for anyone.
The luncheon event is planned to be held on TCU's Main Stage in our theatre on May 3, 2023 from 11am to 1:30pm.
Tickets: $50.00 + taxes
Table of 8: $360 ($45 each) + taxes
Benefitting Dress for Success Saskatoon – attendees are encouraged to bring a lightly used clothing donation.
Event Schedule
11:00-11:30am Registration and Lunch
Healthy lunch buffet showcasing TCU Place's fabulous light lunch options
11:45am Master your MOODS
Sponsor: True Potential Health Services
Speaker/author Dr. Jacqui Fleury sharing on the connection of Brain/Gut Health and its relevance to the start of your day.
12:15pm Master your STYLE
Sponsor: Downtown Saskatoon/Midtown/The Bay
Interactive Fashion Show by The Bay and Midtown Plaza
12:45pm Master your ATTITUDE
Sponsor: AODBT Architecture + Interior Design
Tough Workplace discussions led by Saskatoon leading Human Resource Professionals and team members.
1:30pm Event Conclusion
Master your MOODS
We know we should exercise regularly, get enough sleep and eat well to increase our quality of life and performance. So why is it so hard to do? During lunch, the keynote speaker is brain health enthusiast, Dr. Jacqui Fleury, ND.
Dr. Fleury, a lively speaker and author, will help you understand what contributes to a happier brain and show you how to make a few simple changes that will make a big difference in your moods, your energy and your outlook on life. This portion of the program will inspire you to outline ways you can Master your MOODS.
Master your STYLE – Sponsored by Downtown Saskatoon/Midtown/The Bay
The Bay will showcase ways that one can simply enhance their style to put their best self forward. This entertaining segment of the program will share before/after transformations with simplistic options. Whether you wear a uniform, work from home, go into the office or have a hybrid lifestyle, this portion of the program will entertain and inform you of ways to Master your STYLE.
For the innovative attendee…..Midtown Shopping Centre will be showcasing their interactive new app which allows you to type in a wardrobe item and locate it in real time within Midtown Plaza.
Master your ATTITUDE – Sponsored by AODBT Architecture + Interior Design
Our panel of experts will share a Q & A led discussion of the tough conversations happening in the work place today. This entertaining and informative portion of the program will highlight the sometime comical challenges present in the work place while also shedding light on what one can do better to manage the tough work place conversations.
DRESS for SUCCESS – Clothing Drive
Attendees are encouraged to bring a lightly used clothing item to build the wardrobe for the Saskatoon Chapter of DRESS for SUCCESS. Please see listing below for items requested.