Satinder Sartaaj   |    May 7, 2023 at 7:00 PM, Doors at 6:00PM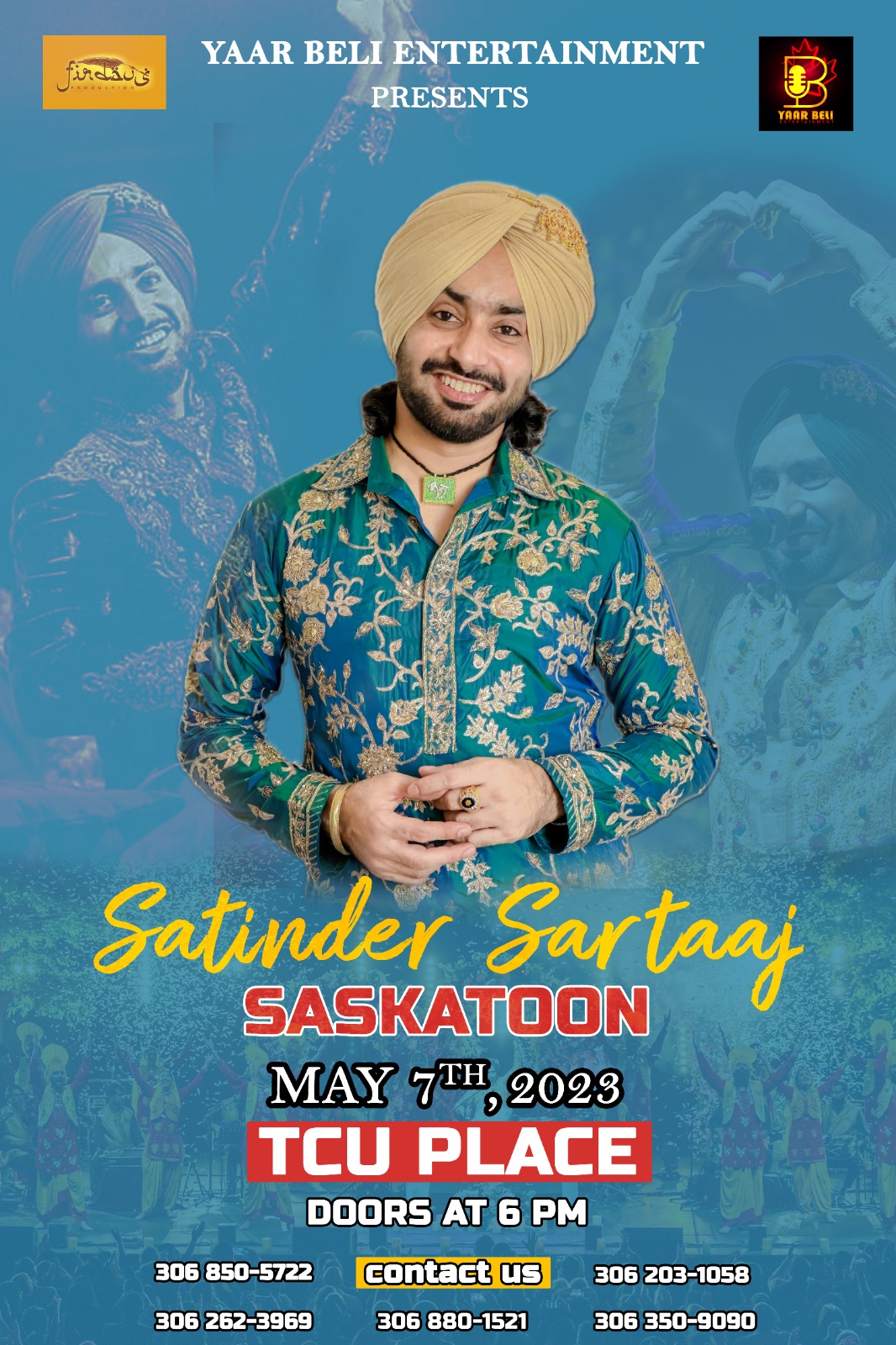 SATINDER SARTAAJ
A multi-gifted artist, artist, songwriter, singer, composer and poet. Today Dr.Satinder Sartaaj possesses an unprecedented list of achievements and remains in the forefront of his craft, a true inspiration. As an artist he excites, enlightens, leads and embraces his fans with insights into life's meaning and deepest feelings. Ancestral values are seen embedded deep in his poetry. Satinder Sartaaj captivates audiences through the vigor and sheer beauty of his words and lyrics. His songs stir the souls, energize the bodies, liberate the minds and heal the hearts.
Satinder Sartaaj is an internationally known singer best recognized for his well-decorated career in Punjabi-Sufi music. His stock took a recent rise after his Hollywood acting debut depicting the Maharaja Duleep Singh in the universally acclaimed motion picture The Black Prince. The famed poet holds a Doctorate in Sufi Music and is most widely sighted for his spellbinding performances in front of the many thousands that gather at his concerts all over the world. Sartaaj's emergence has been tied to the long list of hit songs that date back a decade, however, the Punjab native has always demonstrated an uncanny ability to transcend. The practicing music professor's reverence for his craft and culture has always been on display in his music but his recent acceptance by greater audiences have catapulted this superstar. His collaborations with Nelly Furtado, Talib Kweli, and other American music stars combined with his collaboration with Indian Cinema queen Shabana Azmi on the film The Black Prince have helped graduate this prolific performer to a grander playing field. His humble reflection of being the first Indian man with a turban to walk the red carpet at Cannes is in stride with the modesty Sartaaj champions. His 2014 Royal Albert Hall sellout performance was the first of the many eyebrow-raising accomplishments that have since become a common step. His achievements with the United Nations to help raise funds for their fight against Human Trafficking saw him work alongside cultural royalty like A.R.Rahman, Sonu Nigam, Quincy Jones, President Jimmy Carter and much more to help eradicate the world's second-biggest crime. The year ahead looks incredibly exciting with a calendar that looks to further his international presence. The upcoming digital release of The Black Prince will punctuate one of the defining films of the Indian diaspora of this last year, and with a mini-series on the horizon, the visibility looks sure to grow.
Sartaaj's next music album promises to deliver the sound that has defined his name, except this time many more around the world will be listening.
Satinder Sartaaj was born in the village of Bajrawar, Distt Hoshiarpur (Punjab eastern). Living in the sleepy village, as a child he was hooked to the melody emanating from the flute and sarangi of the wandering artists. Talking about his schooling from his own village and nearby villages of Chabewal and Patti, he says, "I began performing at the Bal-Sabha in 3rd grade and this marked the beginning of my journey." He then graduated in Music with Honours from Govt College Hoshiarpur. Alongside he also completed his 5-year diploma in classical music from Sangeet Vishard in Jalandhar. After completing his graduation and diploma Satinder headed to Punjab University, Chandigarh for his Masters in Music. After his Masters and M.Phil. He completed his PhD with specialization n Sufi poetry. To further understand the deep thoughts of Sufi poetry, he completed a certificate course and Diploma in Persian (Farsi) language. Dr. Satinder Sartaaj taught in the Music Department in Punjab University for 6 years.