SKID ROW & BUCKCHERRY    |   Tuesday October 17, 2023 at 7:00pm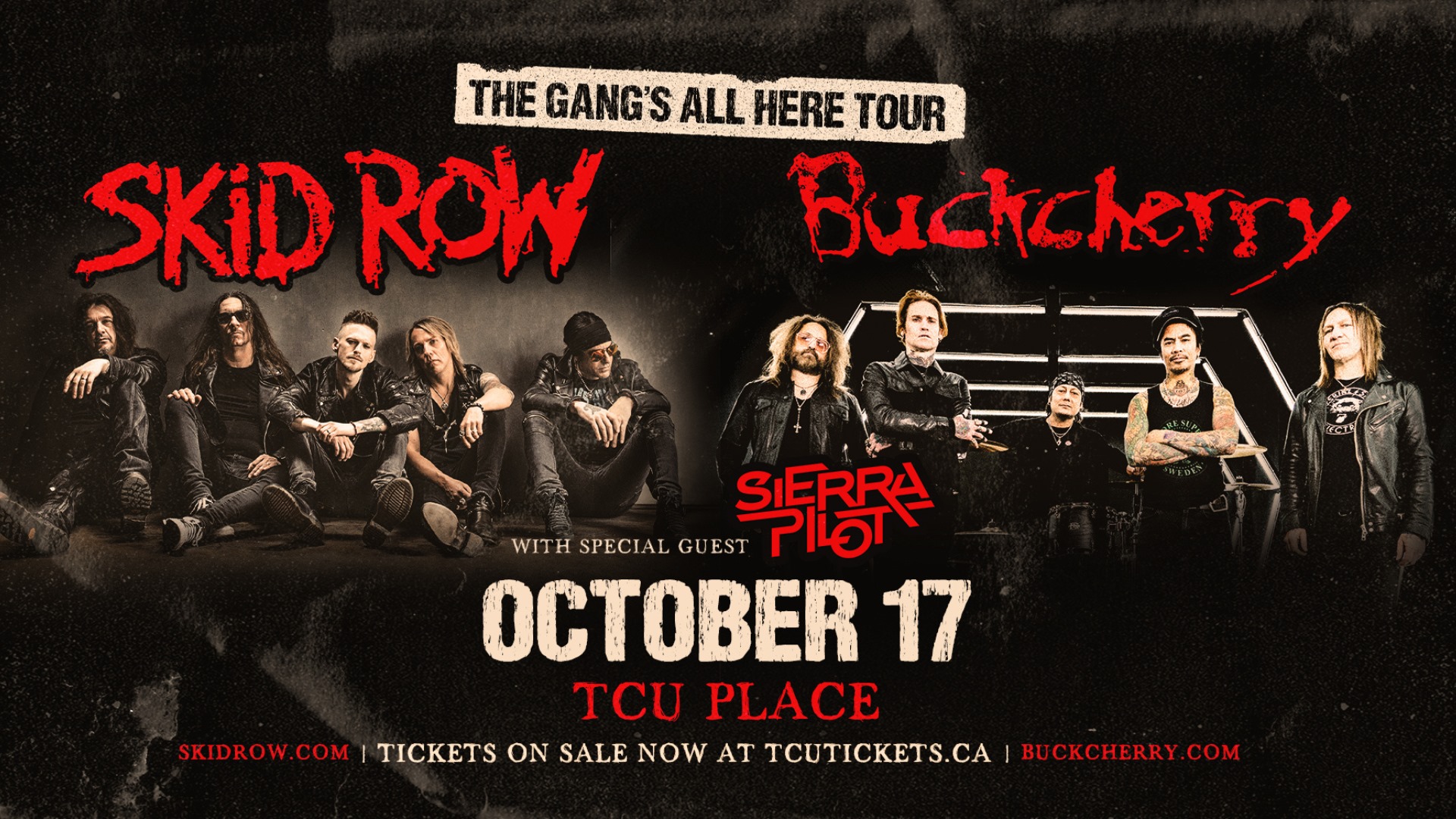 SKID ROW
New Jersey based rockers SKID ROW arrived on the scene in the late-1980s during the hard rock craze and quickly became a predominant force in the genre. Their youth, ambition, and knack for writing catchy songs helped attract a worldwide following. Since their debut album SKID ROW has generated multi-platinum success and massive radio hits including "18 and Life", "Monkey Business", "I Remember You", and "Youth Gone Wild". SKID ROW's career has taken them from their humble beginnings to selling millions of tickets and headlining festivals all around the world!

Skid Row is:  Dave "The Snake" Sabo - Guitars, backing vocals • Rachel Bolan - Bass, backing vocals • Scotti Hill - Guitars, backing vocals • Rob Hammersmith - Drums, backing vocals • Erik Grönwall - Vocals
 
BUCKCHERRY
BUCKCHERRY burst onto the scene in 1999 with its now-classic self-titled debut album. Hit singles "Lit Up", "For The Movies", "Dead Again" and "Check Your Head" brought the celebration back to the party scene, recalling the gritty glam impact of MÖTLEY CRÜE but with a Gen X-demanded, modern self-awareness. Later albums continued to develop their reputation for volatile, mercurial themes and infectious hooks; such singles as "Crazy Bitch", "Everything", "Too Drunk" and "All Night Long" became screaming choruses for fans across the world. With their irreverent and bawdy lyrics, delivered with Todd's whisky-weathered vocals, paired with filthy guitar riffs and high-energy, throbbing bass lines, BUCKCHERRY has sustained a hard-earned reputation as a not-to-be-missed live presence. BUCKCHERRY will release their tenth studio album, "Vol. 10", on June 2. The 11-song LP features 10 new BUCKCHERRY originals and, as a bonus track, a cover of the Bryan Adams classic "Summer Of 69".
SKID ROW "THE GANG'S ALL HERE" VIP SOUNDCHECK PACKAGE
Great Reserved Seat
Skid Row Soundcheck Experience
Group Photo from the barricade with Skid Row
Poster signed by Skid Row
Exclusive VIP Merch item
Commemorative VIP Laminate and Lanyard
Early Entry with Crowd-Free Merch shopping
VIP instructions are emailed approximately 48 hours prior to the event to the email address listed on the order. Be prepared to arrive as early as Noon (12PM) on the day of the show to participate in the soundcheck experience. Merchandise items are scheduled to be given out on site and are subject to change. For questions related to your VIP Package elements, please email: VIP@OneLive.com or call (877) 717-5816.