ROYAL  WOOD  &  JEFFERY  STRAKER    |   Friday March 22, 2024 at 7:30pm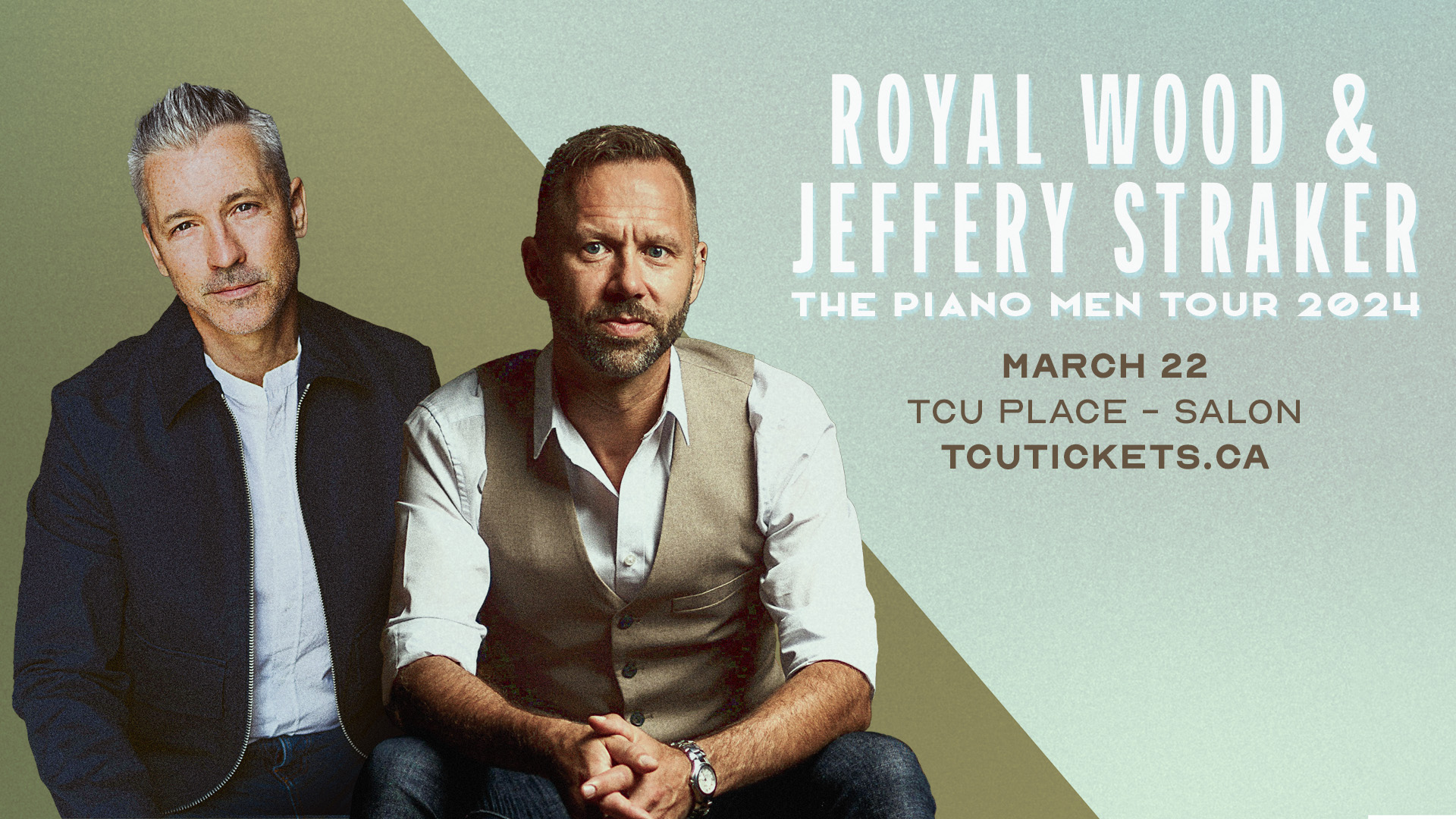 THE PIANO MEN TOUR 2024

ROYAL WOOD
Singer, songwriter, multi-instrumentalist and producer Royal Wood has established himself as a true musical talent. Since being proclaimed "Songwriter of the Year" by iTunes (2010), Wood has continued to evolve and hone his musical craft while maintaining a unique identity.

With two albums debuting in the Top 30 and multiple JUNO nominations, Wood is a 5-time Canadian Folk Music Award-nominee whose songs have been heard on high-profile programs such as Grey's Anatomy and Private Practice. 

Following a headline performance at Toronto's iconic Massey Hall, Royal Wood released his latest album, What Tomorrow Brings, in November 2022. Crafted alongside world-renowned producers Linda Perry (Adele, Alicia Keys, Christina Aguilera) and Jamie Scott (Ed Sheeran, Justin Bieber), the album draws from deeply personal points in Wood's life, effectively capturing the emotion of these moments.

Royal Wood's considerable talents have granted him the opportunity to perform alongside internationally acclaimed artists, including Bonnie Raitt, who personally chose him as the direct support for her recently concluded cross-Canada tour.

Royal Wood continues to expand on the success of What Tomorrow Brings, approaching 300,000 Monthly Listeners on Spotify. 

JEFFERY STRAKER
Singer-songwriter pianist Jeffery Straker grew up taking piano lessons in small-town Saskatchewan and has gone on to perform over 100 shows per year across Canada, Europe and Latin America.  The rootsy-storytelling of his songs has the power to transport a listener - out onto a lake in Canada's North or to the main street of a prairie town.  A clever lyricist with an energetic approach to the piano, his song writing has drawn critical comparisons to the likes of Harry Chapin, Kris Kristofferson & Billy Joel while maintaining a style distinctly his own.  He's recorded his roots/folk music for CBC radio's 'Canada Live', has seen his songs used in film, TV and theatrical productions and in 2019 won a Western Canadian Music Award.  Recently he was awarded "Roots/Folk Artist of the Year" at both the 2020 & 2021 Saskatchewan Music Awards and saw the Saskatchewan Country Music Awards name him "Keyboard Player of the Year" 3 years running.  

Jeffery has just emerged from the studio with his latest recording which will release in early 2024 (date TBC). Working with roots/americana producer Steve Dawson (Nashville) the album delivers a roots/country flavour. 

A classically trained pianist, Straker swears he was born under the piano on the family grain farm. He was raised by a church-organist mother and auctioneer father which might explain his natural ability to share songs with audiences. He was a student of the Royal Conservatory of Music and received his licentiate diploma in piano performance from Trinity College, London when he was only 19. Straker has showcased at major events including Canadian Music Week, NXNE, Breakout West (Western Canada), & Juno Fest. He was an official showcase artist at Folk Alliance International 2022 in Kansas City.