Music For The Gut 2018    |   August 23, 2018 7:30 PM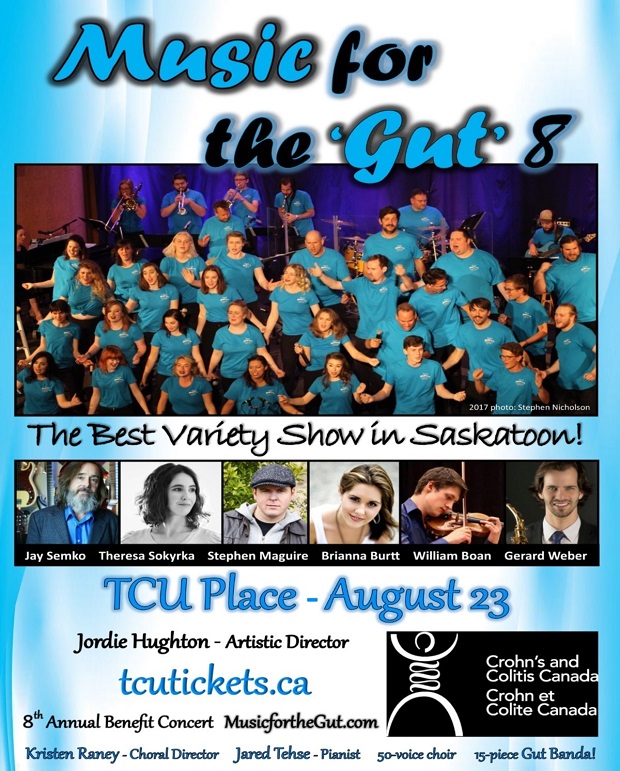 Music for the Gut 8 – 8 th Annual Benefit Concert for Crohn's and Colitis Canada – August 23, 2018
The Best Variety Show in Saskatoon! – Jordie Hughton-artistic director. Kristen Raney-choral director. Jared Tehse-pianist. Emilie Kirchgesner, Heather Currie-choreographers. Lorna Batycki-stage manager. Rob Armstrong-assistant. Jamey Hughton-mc. Special Guests: Jay Semko, Brianna Burtt, Stephen Maguire and Theresa Sokyrka. Solo Artists: William Boan and Gerard Weber.

The eclectic program highlights a 50-voice choir performing powerful uplifting pop/rock hits and musical theatre standards, accompanied by our 15-piece orchestra, Gut Banda! MUSIC For The GUT performers come from many groups including members of the Fireside Singers, Saskatoon Summer Players, artists from Saskatoon Symphony Orchestra, UofS Music students and graduates and Saskatoon Academy of Music teachers and students.

There will be a Raffle, 50/50 and Donations at the concert with proceeds to Crohn's and Colitis Canada! The 1st Music for the Gut was held in 2011 with concert founder, Jordie Hughton, and 17 friends performing at Grace Westminster United Church. In 2017, for our 7th annual concerts, nearly 900 patrons enjoyed 55 talented performers at Cornerstone Church. 
 
We are thankful for over 200 performers and crew who have dedicated their time and talents to our concerts since 2011, when Music for the Gut was founded by the Hughton family. Three members of the Hughton family live with Inflammatory Bowel Disease (IBD – Crohn's Disease and ulcerative colitis), as do many of our performers and crew.

Our annual benefit concerts raise awareness and funds for 250,000 Canadians living with IBD... 1 in every 150 Canadians. We are proud to have contributed $102,000 to Crohn's and Colitis Canada the past seven years! Nearly $70,000 the last three years!

2017 Music for the Gut concert Videos and Documentary: https://www.youtube.com/playlist?list=PL8c3-QVVGyx5rCbxLWEKUMlKoJPiEy-Y2 More concert information and performer list @ www.MusicfortheGut.com