Bonnie Raitt   |   Wednesday September 27, 2023 at 8:00pm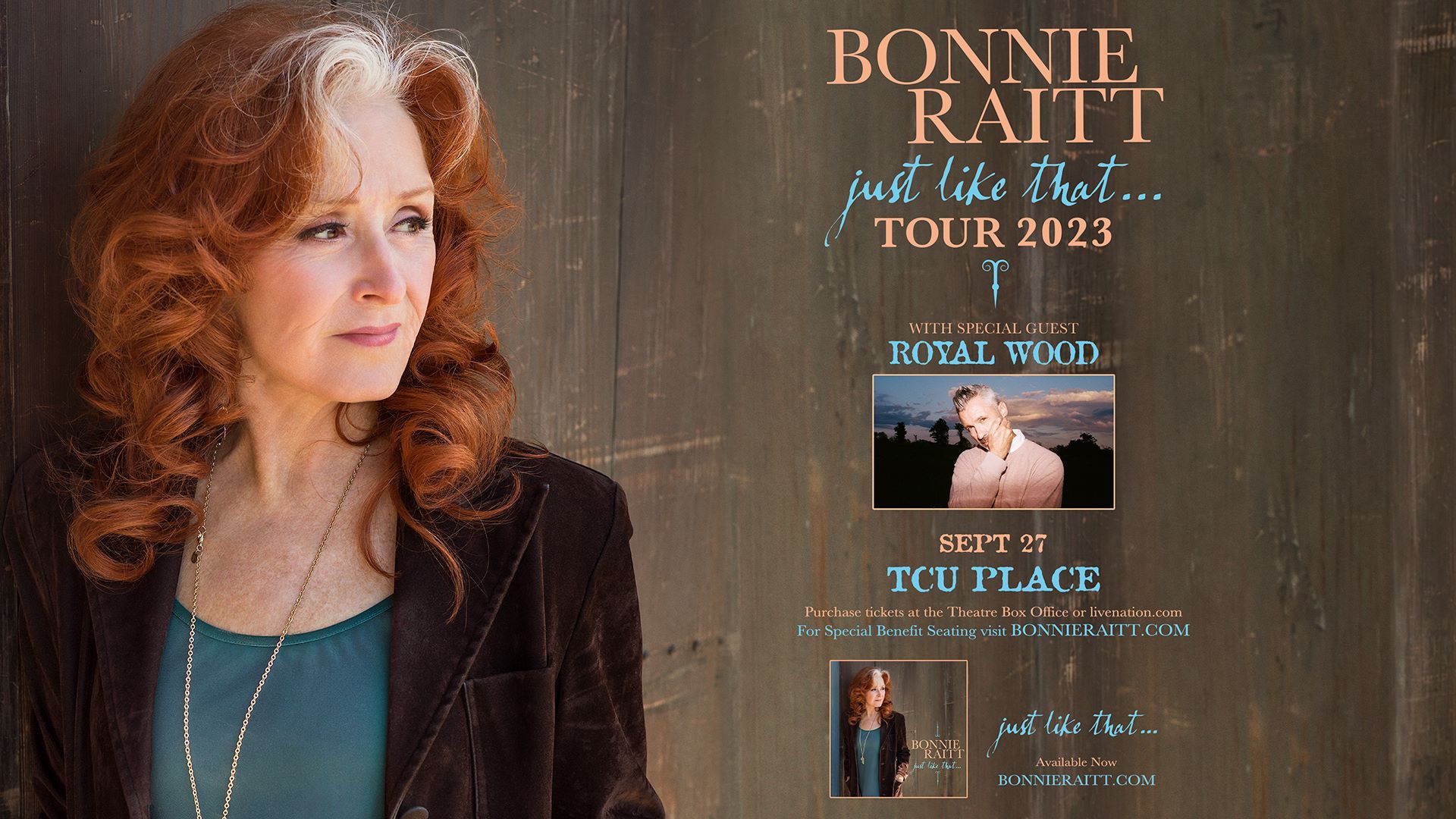 ABOUT BONNIE RAIT
Bonnie Raitt is a singer, songwriter and guitarist whose unique style blends blues, R&B, rock, and pop. After 20 years as a cult favorite, she broke through to the top in the early 90s with her GRAMMY-award winning albums, 'Nick of Time' and 'Luck of the Draw,' which featured hits, "Something To Talk About" and "I Can't Make You Love Me" among others. The ten-time Grammy winner was inducted into the Rock & Roll Hall of Fame in 2000 and Rolling Stone named the slide guitar ace one of the "100 Greatest Guitarists of All Time" and one of the "100 Greatest Singers of All Time."
Raitt's widely-acclaimed 2012 independent release 'Slipstream' sold over a quarter-million copies, making it one of the top selling independent albums, and earned Raitt her 10th Grammy Award (Best Americana Album). In February 2016, Raitt released her highly-anticipated 20th album, 'Dig In Deep' (Redwing Records.) On tour for much of 2017-2019, Raitt and her band performed overseas in Australia, New Zealand as well as Canada before spending the summers touring as support for James Taylor in stadiums and arenas across the U.S., United Kingdom and Europe.
As known for her lifelong commitment to social activism as she is for her music, Raitt has long been involved with the environmental movement, performing concerts around oil, nuclear power, mining, water and forest protection since the mid 70's. She was a founding member of MUSE (Musicians United for Safe Energy) which produced the historic concerts, album and movie NO NUKES and continues to work on safe energy issues in addition to environmental protection, social justice and human rights, as well as creator's rights and music education.
ABOUT ROYAL WOOD
Singer, songwriter, multi-instrumentalist and producer Royal Wood has established himself as a true musical talent. Since being named "Songwriter of the Year" by iTunes (2010), Wood has continued to evolve and hone his musical craft – maintaining an unmistakable identity while uncovering and reinventing his sound. Wood has two albums that have debuted in the Top 30, multiple JUNO nominations, 5-time Canadian Folk Music Award-nominee, and a #1 added song at Hot AC radio. His songs have been heard on high profile sync placements like Grey's Anatomy, and Private Practice. Royal is currently touring the world in support of his critically acclaimed 2022 release, "What Tomorrow Brings".