Anastasia    |   March 17, 2017 at 7:30 PM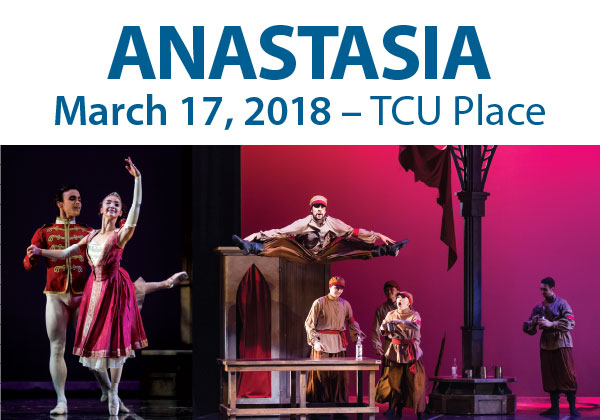 A Russian Grand Duchess, born to privilege, is cast out into a post-revolutionary world… What will become of her?
Choreographer: Bengt Jörgen
Canada's Ballet Jörgen brings back the magical tale of the Russian Grand Duchess Anastasia for the 100th anniversary of the story and the 10th anniversary of the production. Created by acclaimed choreographer and Artistic Director Bengt Jörgen, Anastasia is set to an original full orchestra score by Russian/Canadian composer Ivan Barbotin. Barbotin has previously worked with Canada's Ballet Jörgen to create two of the company's most popular ballets: The Velveteen Rabbit and The Emperor's New Clothes.
The mystery of what happened to the seventeen year old Grand Duchess has fascinated people for nearly a century, spanning a multitude of books, movies and musicals. Anastasia is both the tragic story of an innocent girl and the subject of modern mythology, as there is great speculation about what actually happened that fateful summer of 1918. The human drama of a young girl born to privilege and cast out into a world of immense heartache proves an extraordinarily gripping tale. This ballet explores the emotions, aspirations, and affections of this lovable yet controversial character as the world transforms around her.
Canada's Ballet Jörgen, renowned for its ability to succinctly tell classical stories in an engaging and dramatic fashion, follows the daughter of the fallen Russian Tsar through the ballrooms of St. Petersburg, to the Russian Revolution, to captivity, and beyond…
Anastasia is a full-length ballet rich with incredibly detailed costumes, versatile sets, and exquisite lighting. 

Now touring across western Canada the company is dancing extraordinarily well with tremendous feedback on the Anastasia performances in every place they have been:
"I was in awe of the production this weekend. The choreography and creation so expressive and brilliantly weaved, technical precision and performance sublime and all on a stage with one day to
tech and place. I brought along the conductor of our local orchestra – he is in love with the score and
felt it was a magical pairing! You deserved a full house – the performance was 1st class."                                                   

                                             -    Astrid Sherman, Pro Arte Centre, North Vancouver, BC
 
 
"Out of all the dance performances I have seen over forty tears, I have never seen a dancer portray
such a broad range of human emotion so evocatively as the principal ballerina. Thank you!"

                                             -       Performance attendee 2018, Duncan, BC